Vancouver Tree Service & Tree Removal
We provide tree & Hedge care services in Vancouver, North Vancouver, West Vancouver, and in nearby land areas.
Contact Us
WE ARE ISA CERTIFIED ARBORIST
 Aesthetic Tree & Hedge Services are ISA certified arborist that is licensed and fully insured according to
the laws of ISA certification. We provide expert tree and hedge trimming services in the most professional 
competency. Our certified arborists offer incredible tree services to commercial, residential and municipal 
clients to preserve your trees and your safety.
Tree Service & Tree Removal Experience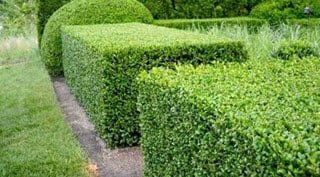 Hedge shaping, trimming, hedge removal and hedge planting, thinning and renewing.
Tree removal, tree pruning, topping, planting, transplant, stump grinding
About Aesthetic Tree Service
Aesthetic Tree & Hedge Service has over 20 years of combined tree and hedge service experience in the Lower Mainland.
We made our reputation through our uncompromising work, specializing in over-sized and extra large hedges and trees. This often includes high hazard tree removal down to animal rescue.
Safety and your satisfaction is our number one priority. It really is quite simple… Keep your customer happy to have returning businesses. We live by that principle at Aesthetic Tree & Hedge Service.
Hedge Trimming
There are a few reasons why you may want to trim your hedges. Many trim for aesthetic purposes, but the main reason for trimming is to control the size of the hedge.
The beauty and benefit of having hedges are that you can grow them to look like what you want in your dreams. They can be a big part of your garden design as well as playing a role in noise reduction from the streets.
If you have a tiny hedge you may need to trim the hedge twice a year. Most of the people trim their hedges once a year.
The following guidelines should be used to determine whether your tree should be trimmed:
Your tree has grown too close to power lines
Branches that are dead, loose, or unattractive hanging branches
It has been a few years your trees have been trimmed or pruned
You would like a more aesthetic appeal
Note: if there are branches from your tree hanging near electrical outlets, you should call the utility company and they will have a professional come and trim the tree at no charge whatsoever.
When the fair weather arrives in spring and summer, many homeowners turn their attention to their lawns and landscapes. These seasons are when arborists are the busiest and it may be difficult to find a quality tree care service at short notice.
Tree Service & Tree Removal Experience
Tree Removal
There are many reasons to cut a tree.
One of them can be a dead tree which with time can pose a hazard to the surrounding. A dead tree can break and cause substantial damage to the property or harm someone.
Another reason to cut a tree when the roots of a tree start to damage the foundation of a property. In some cases when a tree was planted top close to the house the piping and structures can be compromised by the growing roots. Cutting a tree down, also known as felling, requires a great amount of technical skill. This is not something to do yourself and it should always be left to a trained, professional arborist. An arborist will come equipped with the appropriate tools and equipment to ensure that a tree is properly and safely chopped down.
There are numerous safety concerns that must be considered when cutting a tree down.
Cutting a tree near power lines. Working near power lines is very dangerous. Without proper procedures, you could end up knocking out the power in the neighborhood, or worse, electrocuting yourself.
Removing a tree while using the improper equipment. This is a common and lethal mistake during the process of tree removal. We at Aesthetic Tree only utilize top of the line equipment that includes hard hat, climbing equipment, safety pens, ropes, and wood chippers.
For a tree removal, you should always use a professional arborist, don't take any unnecessary chances, give us a call now.
Aesthetic Tree is also providing services in the following locations
Vancouver Tree Service You Can Count On
As one of the best Vancouver BC tree service providers, Aesthetic Tree & Hedge Service is prepared to be the one stop solution to all of your tree and gardening concerns.
We are a company that believes in transparency and customer convenience. We are the guys that go out of our way to make you happy, and of course, doing so makes us happy too. That is the most important part, period. So if you need tree removal, tree cutting, or hedge trimming in Vancouver, contact us today.
Uncompromising Dedication
A tree can die from many reasons. It could have had an infection, or it could have been over taken by an underlining issue. Whatever might have taken the life from the tree, we here at Aesthetic Tree are the go-to team to safely and effectively remove the tree to any level you desire. We have had people request only the branches be cut off and to leave the whole trunk for a later carving to be done by an artist for a forever piece of art on their property.
After our professional team works on the tree, some ask for the stump to be left for economic reasons to have a nice reminder of what was once there. Then there are customers who wish to have the dead tree removed completely including branches, trunk, stump, and roots. This would be the way to go if you are looking to replant and do not want to risk any spreading of what might have killed the past tree.
Whatever you wish, a professional tree service provider can get it done for you efficiently and thoroughly.
It is rare to find a genuine and honest folk like Yaniv whom gets the work done without cutting any corners or overcharging for services. He is prompt to the reply of my inquiry and takes the time to answer all of my tree questions. I have seen their website and is amazed to find that he was featured on the local television. He has founded his company on genuine quality work at an unbeatable price. My respect and trust goes out to Aesthetic Tree & Hedge Services.
Trusted Customer Reviews for three consecutive years, as seen on Three Best Rated site
Our Cat Rescue Service On News
Don't take it from us, let TV reports and our customers tell you about their raving experience working with Aesthetic Tree & Hedge Services
Useful Tips By Aesthetic Tree & Hedge Services
North Vancouver is a beautiful place known for its giant trees and greenery. The unbeatable beauty of walkways with colourful trees is undeniable. However, it requires special care and effort to maintain the beauty of these trees and keep them healthy. Also, Trees...
read more
Frequently Asked Questions (FAQs)
To Prevent Injuries and Loss of Life
Preventing injuries and loss of life is one of the essential reasons to hire a professional for your tree removal task. Outgrown and old trees are in a position of posing the threat of regular branch falling. These branches can end up causing destruction of your property, severe injuries and even loss of life. However, you can avoid these losses by hiring a professional
tree removal
company.
To Save Money
Tree removal services are essential practices regarded as 'undeniably valuable'. This description means that by hiring Aesthetic Tree tree removal service, you will get value to your money that you earned through a hard process. Mostly, these services go at a relatively low price since the process entails getting rid of the trees and cleaning up the area. You'll always incur a lot of costs while doing it as an individual and then hire a company to do the cleaning. Other than this, carrying out tree removing or tree pruning as an individual can end up destroying your property, and you'll always incur a lot of cost for its repair. Moreover, hiring professional tree removal services is the best option for reducing the risks of trees destroying the property foundation and the sewage system. Therefore, hiring a BBB accredited Aesthetic Tree Removal & Hedge Services means saving your money for other uses.
To Improve Curb Appeal
Tree removal is vital in improving the curb appeal. Yes, overgrown and overcrowded trees are in a position of enhancing the landscape to your home, but they make your house to look a bit disorganized. However, Aesthetic Tree Removal & Hedge Services will ensure that your home looks more organized and elegant by removing some of the trees. Our team may decide to remove some species of trees and use better-looking ones to improve the overall appearance of the yard.
To Promote Home Safety
If you don't manage your trees, they can end up becoming hazardous since their dandling branches causes threats to lives and surrounding properties. Therefore, it is necessary that these branches get removed together with other property threatening trees. Trees removal help in ensuring home safety and reduction in risks caused to buildings and humans. Dead trees can decay and decompose, which means that they can fall anytime. Falling trees have high chances to damage your home, injure your family or affect the growth of other trees. However, tree cutting will help in preventing these risks.
To Enhance Tree Growth
Tree cutting dictates the healthy growth of other trees within the same environment. For the case of trees with stunted growth, you need an arborist to remove them and hence remain with the high-quality ones. By doing this, the unremoved trees will grow strong resulting in a magnificent landscape. For the best results, you need to entrust your project to
Aesthetic Tree Removal & Hedge Services
. We are highly-qualified and experienced professionals, responsible for the provision of satisfactory tree removal services.
To Reduce The Spread Of Tree Diseases
For the case where trees die or suffer from a particular tree disease, they are high chances for them to transmit it to other trees. The infection can affect the entire yard. Therefore, it is vital to hire us to remove these trees to reduce the spread of these infections to save your whole landscaping.
To Increase Home Value
Trees play an essential role in increasing home value. However, if you allow dead trees or trees to overgrow in the yard, the aesthetic beauty of the house will get compromised. Thus, tree removal is essential in making the yard look beautiful, and increasing the value of your home as a result.
Call us today, and we'll smile together at your beautiful garden.
Aesthetic Tree & Hedge Services