North Vancouver Tree Service
We are providing Tree Removal and Trimming service in North Vancouver for 10+ years. Accredited and fully insured to meet your tree removal needs.

Hedge Trimming
Hedge shaping, trimming, hedge removal and hedge planting, thinning and renewing.
Lawn installation & Landscaping
We take care of all of your gardening needs.
Tree Removal
Tree removal, tree pruning, topping, planting, transplant, stump grinding.
Tree Services
We will assist you with all your tree needs. Our tree service includes removal, tree care, stump grinding & tree removal, tree pruning & trimming, tree planting, deep root tree fertilization, and emergency tree service.
About Aesthetic Tree & Hedge Services North Vancouver
Aesthetic Tree Service uses the latest and most advanced advances and technologies commonly used in garden management and tree industry  to provide all customers in North Vancouver, British Columbia with excellent results and a high level of service. We also reduce the likelihood of an accident by making maximum security measures. Our tree care professionals and BBB accredited arborists have the experience and knowledge of the entire tree world, how your trees fit into your environment, and what is best for your tree. At
Aesthetic Tree & Hedge Service
, we consider each tree as a part of your landscape, and therefore we take our time and effort to care for it as one way of keeping with your whole scenery. Our skilled team of arborists not only have experience with design and maintenance but also with tree care.
At Aesthetic Tree & Hedge Service, safety comes first. We are an insured, licensed, and bonded organization, We deliver assuredly to our clients zero liability during the time of working on their project. Contact the office today for any tree service need or enquiries related to trees. You never want an tree removal process to hurt you. So get your job done with us.  We have the best solution! Hire us today for affordable registration services.
Trusted North Vancouver Tree Service
Do you know that you can give your trees new heights if they're looking a little scraggier than healthy? Yes, you could be that intentional. Our professional team are at your service for services ranging from: tree removal, tree care, stump grinding & removal, tree pruning & trimming, tree planting, deep root tree fertilization, emergency tree service and since we are all out to make you happy whatever service we can offer you on the field would be gladly executed.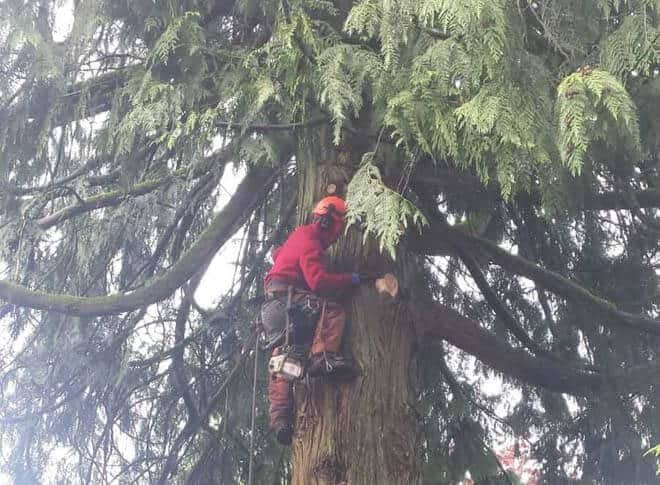 Tree Trimming
Tree pruning is an art and science with a significant effect on your trees' longevity and health. For a drastic improvement of the safety of your trees, tree trimming is essential, and you may need a tree expert to do it efficiently and at the right time of the year. As your case may be (limbs interfering with structures and utilities poor tree structure, storm-damaged trees, weak or hazardous limbs, limbs obstructing streets and sidewalks, or poor light filtration to turf or beds) a tree expert can get you covered.
Tree Removal
We prefer to use Cabling and Bracing for tree removal in most cases. It is necessary to inspect the tree's weak spots since they put your guests and property in danger. There are high chances for large weak branches to cause damage to your property and even injure your loved ones. Make a call for an inspection of tree removal and let the tree experts do the exercise for you with high safety.
Stump Grinding
Its no news that old stumps limit landscape efficiency, houses insects and diminishes aesthetics. At Aesthetic Tree & Hedge Service, we grind stumps to 1 to 3 inches below grade, hence making it possible for you to work around it as the roots keep decomposing. Our main aim is to ensure that your landscape remains as safe as possible. We use a small stump essential in reducing the impact on your yard, work to get the task done correctly and not at the expense of your landscape grass or shrubs.
Our Customer Trusted Reviews
North Vancouver Tree Removal Service
Aesthetic Tree & Hedge Service works towards improving the health of trees in North Vancouver. Other than this, we know that there are some situations where tree removal is the best option for you.  Trees contribute a lot for commercial properties and even in improving the curb appeal to the landscape and building. However, those trees with undesired growth can threaten everyone's life and can end up destroying property. Other than this, tree removal and care services demand special attention, expertise, and tools, therefore you may need a certified arborist to carry out the exercise. Therefore, if you're thinking about  tree removal in your locality  or have any doubt whether to remove them or not, simply  make a call today for the best suggestion to your tree needs.
North Vancouver Tree Bylaw
The order you see with regards to the arrangement of houses, lawns and all you could think of in the streets of north Vancouver is due to the bylaw that regulates actions that can or cannot be carried out. The rules have a restriction on the number of trees that can be removed per citizen and conditions to which your permit would be considered. Somewhere in your thoughts you are viewing a possibility of cutting trees down unnoticed, as cool as that sounds the strict rules of North Vancouver would definitely fish you out and the consequences fine wise and other respects are drastic and uncool for the status of a citizen Rather than contract to cheap tree care contractors who devise improper route to getting the work down which certainly has its future consequence so why not trust us to undertake your task and because we are a licensed firm we can bear responsibility for any occurrence if at all there would be any.
Why Hire Us In North Vancouver
Aesthetic Tree & Hedge Service is a fast growing tree service company in North Vancouver. We have extensive experience that can address your concerns as a potential customer, Our team is a group of expert trained personnel. They undertake alongside a wealth of experience of over 3 years . We are the arborists that examine the trees of your property to make sure they're not suffering from extensive damage, trim the offending branches to keep them growing and thriving.
To Prevent Injuries and Loss of Life
Preventing injuries and loss of life is one of the essential reasons to hire a professional for your tree removal task. Outgrown and old trees are in a position of posing the threat of regular branch falling. These branches can end up causing destruction of your property, severe injuries and even loss of life. However, you can avoid these losses by hiring a professional
tree removal
company.
To Save Money
Tree removal services are essential practices regarded as 'undeniably valuable'. This description means that by hiring Aesthetic Tree tree removal service, you will get value to your money that you earned through a hard process. Mostly, these services go at a relatively low price since the process entails getting rid of the trees and cleaning up the area. You'll always incur a lot of costs while doing it as an individual and then hire a company to do the cleaning. Other than this, carrying out tree removing or tree pruning as an individual can end up destroying your property, and you'll always incur a lot of cost for its repair. Moreover, hiring professional tree removal services is the best option for reducing the risks of trees destroying the property foundation and the sewage system. Therefore, hiring a BBB accredited Aesthetic Tree Removal & Hedge Services means saving your money for other uses.
To Improve Curb Appeal
Tree removal is vital in improving the curb appeal. Yes, overgrown and overcrowded trees are in a position of enhancing the landscape to your home, but they make your house to look a bit disorganized. However, Aesthetic Tree Removal & Hedge Services will ensure that your home looks more organized and elegant by removing some of the trees. Our team may decide to remove some species of trees and use better-looking ones to improve the overall appearance of the yard.
To Promote Home Safety
If you don't manage your trees, they can end up becoming hazardous since their dandling branches causes threats to lives and surrounding properties. Therefore, it is necessary that these branches get removed together with other property threatening trees. Trees removal help in ensuring home safety and reduction in risks caused to buildings and humans. Dead trees can decay and decompose, which means that they can fall anytime. Falling trees have high chances to damage your home, injure your family or affect the growth of other trees. However, tree cutting will help in preventing these risks.
To Enhance Tree Growth
Tree cutting dictates the healthy growth of other trees within the same environment. For the case of trees with stunted growth, you need an arborist to remove them and hence remain with the high-quality ones. By doing this, the unremoved trees will grow strong resulting in a magnificent landscape. For the best results, you need to entrust your project to
Aesthetic Tree Removal & Hedge Services
. We are highly-qualified and experienced professionals, responsible for the provision of satisfactory tree removal services.
To Reduce The Spread Of Tree Diseases
For the case where trees die or suffer from a particular tree disease, they are high chances for them to transmit it to other trees. The infection can affect the entire yard. Therefore, it is vital to hire us to remove these trees to reduce the spread of these infections to save your whole landscaping.
To Increase Home Value
Trees play an essential role in increasing home value. However, if you allow dead trees or trees to overgrow in the yard, the aesthetic beauty of the house will get compromised. Thus, tree removal is essential in making the yard look beautiful, and increasing the value of your home as a result.
North Vancouver is a beautiful place known for its giant trees and greenery. The unbeatable beauty of walkways with colourful trees is undeniable. However, it requires special care and effort to maintain the beauty of these trees and keep them healthy. Also, Trees...
read more
Make a choice to use our tree service today, we are the insured and BBB accredited organization to solve your issues.
Contact Information
Aesthetic Tree & Hedge Services
441 W 15th St W, North Vancouver, BC V7M 1S7
Phone:
(604)721-7370
Business Hours: 24/7