Hedge Removal Practices
Hedgerows are an important plant of every plantation campaign. Many experts refer to them as an ecosystem all by themselves while they may appear a dying plantation wonder to many common people.
Hedges in the current era which occur as a result of low quality maintenance and arbitrary plantation with no experience. These kind of low standard plantation schemes lead to poor visual experiences and might even ruin the beauty of a perfectly green region.
​If you look at it for the betterment of wildlife, especially birds, keeping deep hedges as a convention is way better. People are not fond of adopting new hedge plantation and removal practices. Hedge removal in gardens with twisted branches and plants concentrated into an area were tactics used to stop grazing animals from entering the premises or other security concerns, we are far beyond those times now.
Before you plant hedges and cut them properly, you should focus on Hedge removal and the soil first and prepare for a long term relationship with the plants. Areas of soil which have been ploughed properly especially soil which has a higher concentration of clay is highly preferable for hedges.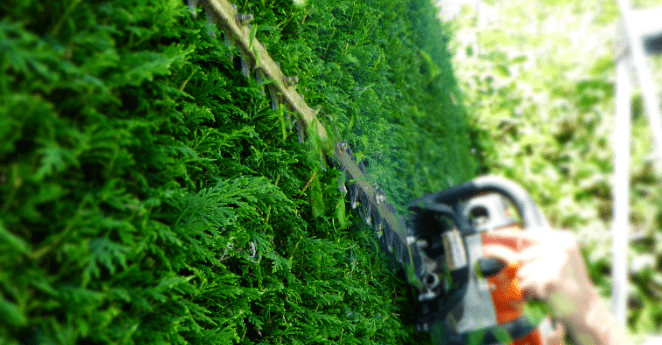 Cutting Hedges to Help Wildlife:
To help wildlife through your hedge planting and removal techniques, make sure you keep an eye on the following instructions:
Plough the part of earth before planting in a radius of 5 feet.
Try your best to create a small artificial plateau by Hedge removal of your own by arranging each tree in a considerably slanted position alongside a small hole on the other side. The hole with the tree would help to absorb moisture over time and keep the trees hydrated in dry times.
It is preferable if you utilize space and make couple of rows for the plants that have hedging whips.
​
Mulching the trees for better hedging is a must. You may take advantage from mulch mats or waste substances like used newspapers. Keep an eye while placing these materials so that they don't come in direct contact with the plant's roots.
Be aware if there is rabbit issue in your region. Protect the hedges by taking precautionary measures like wire mesh.
Maintaining Hedges Health While Cutting:
With the development of science and farming techniques over the years, there has been a significant amount of damage done to the hedges. You can often find hedges during Hedge removal with large gaps or sometimes without proper roots. All this mostly happens because of careless and inexperienced removal. You should keep in mind to only follow the best hedge removal practices.
The famously known "A" shaped hedges are famous for their ability to support the wildlife and being a better shelter for your grazing animals. One common practice is observed among gardeners these days which is very harmful to hedges. It is the cutting of hedge bottom's vegetation during the fall season.
A good gardener would give preference to trimming the upper parts of hedges very lightly on the time of plantation. This would help its bushes to grow quickly and in a healthier manner. Hedges should only be trimmed during the time when plants blossom most i-e spring. By doing this you'll avoid any
bird colonization among the hedges. Also, try not to perform hedge trimming on yearly basis. The equipment preferred by botanic experts for pruning is scissor cutters. If you trim in a direction once, keep it a reference and do pruning in the same dimensions for the future.
​
Take care of each and every hedge you'll trim because they can usually heal if Hedge removal is done roughly. However, if the trimming is done with severe force over a regular period of time, the hedges would simply stop growing in a healthy manner anymore and you'll be left with a mesh of uneven branches.